For as long as I have been alive, I've planted potatoes.  I love potatoes.  In fact, I've never met a potato I didn't like!  But potatoes take a lot of work:  tilling, planting, covering, weeding, hilling, weeding, and then finally digging.  And all of that done by hand.
So in 2014, we tried something new.  And it involved this big boy right here: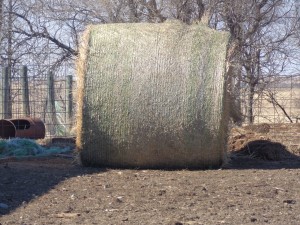 We didn't till the soil before we started.  This is simply harrowed after the pigs "hogged" down the cover crop we had planted here last fall.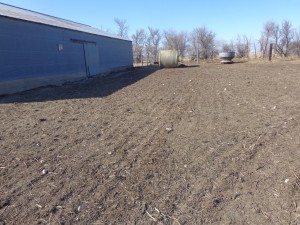 We cut up our seed potatoes the day before and let them "scab over".  I had big plans of laying them out in a grid pattern, but then three small children came to help and the grid was gone.  All we did was plunk the potatoes right down on the ground.  No digging or scooping required.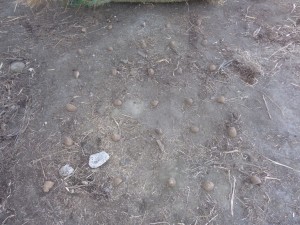 Then we cut the netting, removed it all, and rolled that big bale down the line.  We didn't worry about thick or thin spots, just GO!  The hay ranged in thickness from 4 to 12 inches.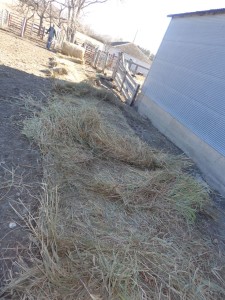 Make sure you get the little people involved!
We rolled the bale down and back in our corral and had 100 pounds of seed potatoes planted in about 20 minutes.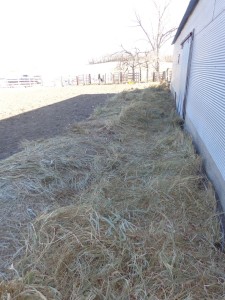 Hubby was worried that the hay was too thick.  But I said, "Potato roots grow two feet long through a burlap sack in the root cellar, I think they can push through a little hay!"
So we waited.
And waited.
And just when I thought, "Well, there went 100 pounds of potatoes", UP they came!  They exploded through the mulch and took off like wildfire.  Our potatoes bloomed longer than I've ever seen, and were greener longer than all of our neighbors' potatoes.
But the proof is not in the plants….
Here is the harvest team, ready to harvest!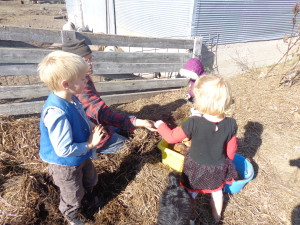 And this is what it looked like before we started.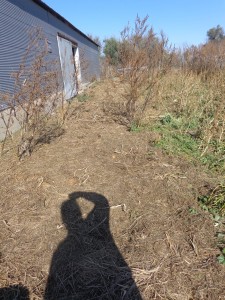 We started scratching back the mulch that was remaining, which was only a couple of inches by this time.  The majority of it had broken down over the summer providing nutrients to the potatoes.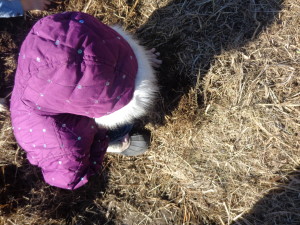 And there were potatoes.  LOTS of potatoes!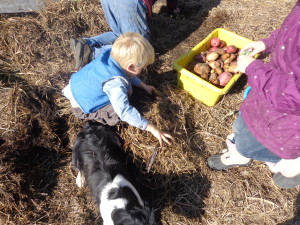 All we did was slide the mulch behind us and pick up the potatoes from the surface of the ground.  Absolutely no digging OR searching for potatoes.  This is what it looked like behind us.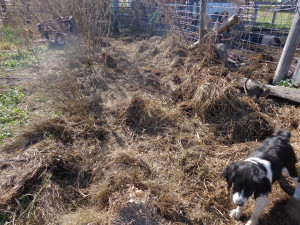 We filled pails and buckets and our garden trailer with hundreds of pounds of red and white potatoes.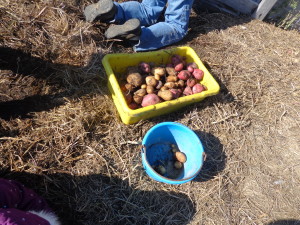 In summary, we will be planting our potatoes this way in 2015 and beyond.  We never watered them and the soil was moist under the mulch all summer long.  The kids loved to run out with a bucket and scratch back some mulch and harvest some baby potatoes for our meals.  There was some mouse damage and some sun scald, but not more than with traditional potato hills.  By far, the most productive and least work we've ever done with potatoes!