**Remember, you can see all the bloggers participating in the 30 Days of Agriculture right HERE.**
There are times when I am working in my garden or butchering chickens or washing dishes and my mind wanders.  OK, my mind wanders during those times a lot.  And I think big, deep thoughts.  And I say to myself, "I should write this down!"  Well, never fear friends, Gene Logsdon (The Contrary Farmer) has written all of his down and they are rich.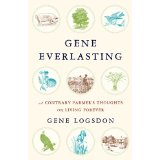 Mr. Logsdon has written many great books, both philosophical and practical, but Gene Everlasting is (so far) my favorite.  In this tome, The Contrary Farmer deals with his own mortality as he faces a cancer diagnosis.  As a family that has struggled with cancer, perhaps that is why this one has touched me more than the others.  I will admit to looking at my garden, my animals, my life, and nature itself a little differently because of this book.
If you, or someone you know, is facing a serious diagnosis or if you've recently lost someone, I recommend this book.  It's not self-help, it's not feel-good, it IS real.  It is The Contrary Farmer, after all.  And you can find it on Amazon.