**Remember, you can see all the bloggers participating in the 30 Days of Agriculture right HERE.**
Humans, like a lot of animals on this planet, are omnivores.  That means we can, and should, eat a varied diet for optimum health.  And because we can eat a lot of different foods, that begs the question, "What, then, should we eat?"  And that is one of the greatest questions facing us as a people.  How do we choose what to eat?  Do we base our decisions on price, appearance, taste, availability, quantity, or some other factor?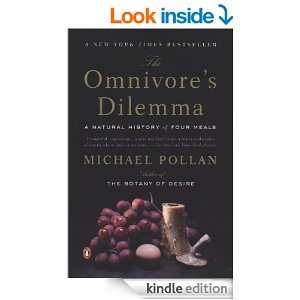 In The Omnivore's Dilemma, Michael Pollan explores this question by discussing the natural history of four meals, exploring the different ways these meals can be assembled today.  He follows a steer from farm through feedlot.  He forages for wild mushrooms.  He butchers a chicken on Polyface Farm.  And explores all the social, political, and environmental issues that surround our current food system.  Read this book with a notebook and pen beside you, there are lots of great quotes and statistics you will want to remember.
You can find it on AMAZON.