**Remember, you can see all the bloggers participating in the 30 Days of Agriculture right HERE.**
One of the questions we are most often asked is "What is the difference between you and regular farmers?  How are you different?"  Put another way:  Aren't all milk cows the same?  Aren't all chickens the same?  Why would you raise your sheep like that?  We always get lots of questions and we have an answer for each and every one.  Because it isn't that we are uninformed, that we simply aren't aware of all the advances and technology in farming, that we jus haven't heard about GMOs or GPS sprayer systems….it's that we have and we choose a different path.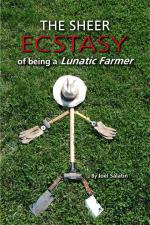 Uncle Joel does a wonderful job of explaining in this book why we farm the way we do.  It serves two purposes:  1.  It educates others and 2.  It provides a support group.  There IS someone else out there who flips over cow patties to check for dung beetles!  This life we have, this harmony with nature, it is sacred and beautiful.  And you need a tribe that supports that calling.  You may not find it in your neighbors or your family, but The Sheer Ecstasy of Being A Lunatic Farmer promises you that you are not alone and that being a lunatic IS sheer ecstasy!!
As with all of Joel's books, I recommend you purchase it from THE FARM.