**Remember, you can see all the bloggers participating in the 30 Days of Agriculture right HERE.**
It has been a few years since I first heard the word "permaculture" in the sustainable agriculture lexicon.  The official definition of permaculture is: Permaculture is a branch of ecological design, ecological engineering, environmental design, construction and integrated water resources management that develops sustainable architecture, regenerative and self-maintained habitat and agricultural systems modeled from natural ecosystems.
That sounds like a mouthful, much less where would one start to implement such a system?  I stumbled around, talked to folks, asked questions, read articles, and still couldn't put it together about how to do permaculture on the high plains.  Most examples of permaculture (and most farms practicing permaculture) are in forested regions.  They utilize plantings of different trees and shrubs at different levels to maximize the production, making it three dimensional, rather than just two dimensional.  Then the addition of livestock adds yet another layer, dare I say a fourth dimension?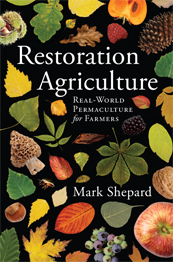 It wasn't until I heard Mark speak at the 2014 MOSES Conference and read his book Restoration Agriculture that I finally put together what might be possible here on the northern high plains.  If you struggle with how to start putting pieces together, this book helps explain the layering that is so characteristic of permaculture.  From the soil, water, plant life and animals, you can begin to recognize systems already in place and where new parts can be added to strengthen the system.  Conventional agriculture strives to eliminate diversity, permaculture strives to increase it.
Our first strategic permaculture addition has been our "Chaotic Orchard".  We have no design, no measurements and lots of diversity.  We want as natural a system as possible.  You never see an acre of wild chokecherries all in rows, do you?
You can find Mark's book in traditional book sellers, but I encourage you to purchase it from the MOSES Book Store.  I am also linking a lengthy video that is one of Mark's conference presentations.