**Remember, you can see all the bloggers participating in the 30 Days of Agriculture right HERE.**
My mom, who has been gone for a year and a half now, loved to read.  And she loved buying books.  She would buy books and then send them to me to read.  One of the books she sent me was this one: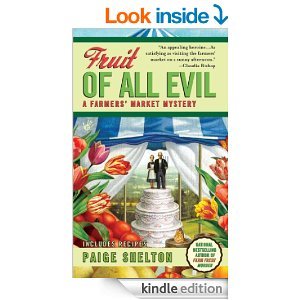 And she said, "I knew this was a book you would love to read!"  And, as usual, she was right.  I love a good mystery.  I love farmers markets.  I love farmers.  This book has all three!  Fruit Of All Evil is an accurate portrayal of life as a farmers market vendor and a direct marketer of food.  It describes the rush to get product done, harvested, etc. and even the behind-the-scenes goings-on at a farmers market (which, if you are a farmers market vendor, will be hilarious!).  I recommend this book to any farmer, farmers market customer, and particularly farmers market managers (Hi Katie!) in your life.  You can find it HERE on Amazon.