***UPDATE***  The winner of the book "A Little Salty to Cut the Sweet" is HK!!!
This past weekend was a whirlwind of family, flying and food.  Oh, yes it was!
I left on Thursday from Balmy Bismarck, courtesy of a ride from my dear friend LM and her adorable daughter. There isn't a better way to start a vacation than with a friend and a three year old, let me just say that.  And there isn't a worse way to start a vacation than with the words "Attention Delta customers, we regret to inform you that your flight has been delayed."
You need to understand that what once was just two flights from North Dakota to Tennessee is now three.  Which means rather than enjoying a leisurely layover in lovely MSP, perhaps a light lunch, is now a mad dash through two airports in the frantic effort to make the next flight.  Why do I not just schedule leisurely layovers in two airports?  Because I don't want to be traveling for 12 hours.  And therein lies the tradeoff.  My only consolation was that I didn't have to do three flights with a child or two in tow.
So, we started off Flight #1 late.  35 minutes late.  When you only have a 50 minute layover, that leaves precious little time to get where I needed to go.  But, all things work together for good and the reason we were late is because of bad weather in Minneapolis so the connecting flights were also delayed.  I did have to run through MSP from concourse G to A (about as far as you can go in MSP) and made it just as they were boarding my zone.  Upon arrival in Detroit, I met up with my sister and we had supper together before boarding the flight for Chattanooga.  The flight to CHA was a hoot!  Our flight attendant was Hispanic and had a, shall we say, "thick" accent.  (This coming from the heart of ND where the accent is oh-so-thick, donchaknow.)  I told my sister that I felt like we were going to Mexico rather than East Tennessee.  And when we landed, she proclaimed on the intercom "Welcome to SHattanoooooga" and boy did I feel glamorous.  SHattanoooooga! here we come.
We had been told that the CHA airport was wonderful.  I'll admit our expectations were high.  When we had to deplane on the tarmack and schlep our bags into the terminal, well that was the first sign that this was slightly less than wonderful.  As Sister remarked, "Is this an airport or a bus station?".  As it turned out, the CHA is remodeling, hence the bus-station-feel.
Brother picked us up and took us to our favorite nephew and Sister-in-law.  And his aunts then proceeded to wake that poor boy up and shower him with presents and demand hugs.  That poor child was assaulted by aunts.  We revved him up and then turned him over to his parents to try and get back to sleep.  (I may have giggled once or twice.)
Friday morning we lounged around, lunched and then moseyed over to "SHattanoooooga" for the 2013 DotMOM conference.  When we first pulled up (Brother as chauffer of course), I was a bit confused.  Lots of big trucks, lots of big men, and women with big hair, and lots of tattoos.  This did not seem like a Christian (and not just Christian, but Southern Baptist) Mom's Conference.  But then a tiny pink sign was discovered that directed us to the right area.  In a very ironic but highly entertaining twist-of-scheduling-fate, the DotMOM conference was scheduled in the same event center and at the same time as the Tennessee Tow Show.  (No, not a convention for those who administer the life-giving pedicures.)  A convention for those who TOW VEHICLES.  It was too much.  And it was very easy to see which conference any particular individual should be attending.
The conference (the DotMOM conference) was awesome.  Really, it was just what I needed.  Powerful Bible teaching, helpful parenting advice, encouragement and fun.  Sister, Sister-in-law and I attended together and all agreed it was wonderful for each of us.  We're planning on 2014 in Nashville!
The emcees of the event are two of my favorite bloggers/podcasters.  Their podcasts are hysterical. It's like listening to your best friends talk but with a decidedly SOUTHERN accent.  I foolishly thought that I may not recognize them in person, but if I could just hear them talk I would know it was them.  However, what I neglected to take into account was that when you are at a Southern Baptist Mom conference ALL THE WOMEN TALK WITH A SOUTHERN ACCENT.  All 2000 of them.  My strategy just flew out the open southern window.
But all was not lost because on Friday evening there was a booksigning scheduled.  Now, I already have Melanie's (aka BigMama) book on my Kindle, which is hard to autograph.  I didn't have Sophie's book yet because Melanie's came out in February when I was still reading and Sophie released in May when reading the clock is about as much reading as I do.  Ms. Sophie Hudson, aka BooMama, blogs from Alabama and oh my, she is hilarious.  You may think that a prairie girl from North Dakota may not get the humor and lifestyle of a true southern belle, but her fun and shenanigans are equally translatable.
When you meet someone in person after reading them and interacting online, it's always a chance you take that they may not be as personable or friendly as they appear in the virtual world.  Not so with Sophie.  She very kindly autographed her book for me.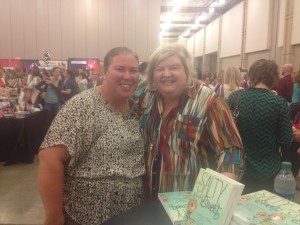 And we chatted for a few minutes about teaching (she's an English teacher) and she was impressed that we have a farm.  She even said, "Well, you and Ann Voskamp would have a LOT to talk about."  One can wish, Ms. Hudson, one can wish.  I can just imagine the conversation Ann Voskamp and I would have.  She would have some soft-spoken, beautiful poetry-type comment and I would respond with something about manure or chicken processing.  It's about the best I can do.
I will tell you that I read the whole book on my flight home (that should say FLIGHTS) and it was fabulous.  It made me laugh and cry and miss my mama in powerful ways.  And just because I love this book so very, very much…I'm giving away one copy of her book to someone who leaves a comment here on the blog.  Because October 4th was my grandparents' wedding anniversary, we'll close the giveaway then.